Nodys, an ayurvedic anti diarrheal medicine prepared by Ayurchem Products Mumbai, has a unique combination of Ayurvedic ingredients to control irritable bowel syndrome and associated problems. It gives fantastic results when taken in the prescribed dose.
Wrightia antidysentrica, Aigle marmalos, Berberris Arristata, Symplocos racemosa, Trikatu (Piper longum, Piper nigrum, Zinzibar officinalis), Bombax Ceiba, Embelia Ribes, Panchamrit Parpati (Classical Ayurvedic Preparation)
1-2 Tablets 2-3 times a day or as directed by physician.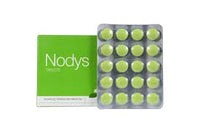 Nodys
- 20 Tablets / Tablet