Zandu Kesari Jivan is a health supplement enriched with goodness of saffron, fresh Indian gooseberries and exotic Indian spices, herbs and tarce minerals. This products makes one physically strong and keeps youthfullness intact.
Potent immunity booster, as a co-prescription in Depression, Eye diseases, Chronic dysentry, Chronic Diarrhoea, Joint diseases.
Emblica officinalis, Withania Somnifera, Crocus Sativus, Elletaria Cardamomum, Sizygium aromaticum, Piper nigrum, Zingiber officinale, Myristica fragrans, Cinnamomum Zeylanicum, Cinnamomum Tamala, Piper longum, Tribulus Terrestris, Mesua Ferrea, Chlorophytum borivilianum, Emblica ribes, Yashad Bhasma, Pure Ghee (Clarified unsalted butter), Saccharum officinarum, Mucuna pruriens, Sida cordifolia, Bambosa arundianacea, Godanti bhasma (Classical Ayurvedic preparation), Mukta shukti bhasma (Classical ayurvedic preparation), Abhrak bhasma (Classical ayurvedic preparation)
1-2 Tea spoons in the morning with warm milk or water or as directed by physician.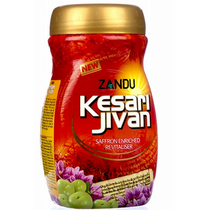 Kesari Jeevan
- 450 Grams / Avaleha (Jam)