Vivadona is a unique blend of scientifically proven de-stressing herbs specifically formulated for women, which calm the mind and reduce fatigue. Bacopa monnieri and Chlorophytum arundinaceum have an effective anti-stress activity useful in the management of stress and anxiety. Curculigo orchioides and Asparagus racemosus show significant Phyto-estrogenic and nutritive properties to support overall female health
.Loss of Libido in women due to: Anxiety in newly married,Sexual trauma,Post-partum depression. As a co-prescription in infertility counseling, Loss of libido in menopausal women.
Centella asiatica, Curculigo orchiodes, Chlorophytum arundinaceum, Mucuna pruriens, Asparagus racemoses, Tribulus terrstris, Shuddha Shilajit (Puriefied Black Bitumen), Yashad Bhasma ( Classsical Ayurvedic Preparation)
1-2 capsules twice a day or as directed by physician.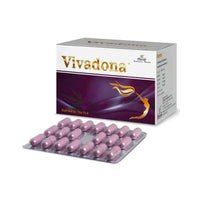 Vivadona
- 20 Capsules / Capsule