Enriched with best anti ageing extract, this serum promotes new skin cell growth and helps to maintain healthy skin.
Fades wrinkles, tightens sagging skin, reverse sun damage, promotes new skin cell growth and promotes healthy skin.
Key Ingredients : Comfrey, Soy
Wash your face and pat dry. Apply "Vitalift Serum" on your face and allow it to get absorbed in the skin. Always use "Vitalift Serum" before using "Nourishing Day Cream" or "Hydrating Night Cream". For maximum result use "Firming Face Mask" 2 times a week.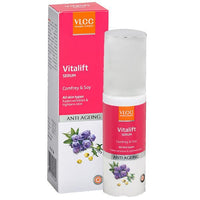 Vitalift
- 50 ml / Serum