Vigomax forte is an Ayurvedic product manufactured by Charak Pharma, India. This product is a unique combination of Ayurvedic ingredients which treat low sexual drive and erectile dysfunction effectively.
Loss of libido, erectile dysfunction, Male impotency, Strength and Stamina, Non hormonal safe.
Withania Somnifera. Tribulus Terestris, Mucuna Pruriens, Chlorophytum Arundinaceum, Ricinis communis
1 tablet twice a day with milk / warm water or as directed by physician.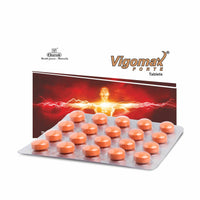 Vigomax Forte
- Strip of 20 Tablets / Tablet