Utreup Capsules stimulate and tone the Uterine musculature. This remedy reduces pelvic inflammation and low back pain. Utreup Capsules reduce malnutrition and also addresses the melancholy that is often associated with a variety of menstrual irregularities
Uterine Tonic, Promotes fertility for healthy conception, menstrual regulator, removes fatigue, Menorrahogia, dysfunctional uterine bleeding.
Saaca Ashoka, Symplocos racemoses, Emblica officinalis, Bambusa arundinacea, Louha Bhasma (Classical Ayurvedic medicine), Eletteria cardomomum, Praval pishti (Classical ayurvedic preparation), Withania somnifera, Asparagus racemoses, Santalum album, Berberis Aristata.
1-2 Capsules twice or thrice daily with milk / Water or as directed by physician.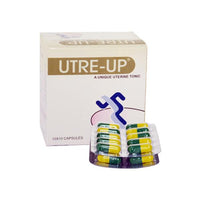 Utre-Up
- 10 X 10 Capsules / Capsule