Tulsi Capsules - Anti-stress anti ageing, is revered as "The Queen of Herbs". Scientific research has confirmed that Tulsi (Holy Basil) helps reduce stress, improves stamina, boosts immunity and fights and prevents chronic disease. Tulsi also provides a rich supply of antioxidants and other nutrients.
Tulsi Reduces Stress, Boosts Stamina, Improves Immunity, Fights and prevents Chronic diseases, Provides a rich supply of anti oxidants.
Ocimum sanctum, Ocimum gratissimum.
1-2 capsules with food and water twice daily for at least 3 months or as directed by your health care provider. Safe for long term use.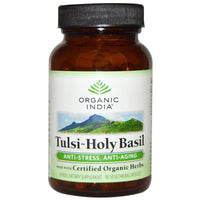 Tulsi, Organic India
- 60 Capsules / Capsule