Dabur Triphala Tablets is mainly used for the treatment of digestive disorders such as constipation and indigestion. This medicine helps in cleansing the colon in the intestine and also helpful in eliminating toxicity from the body. Dabur Triphala Tablets contain laxative agents that help to increase the movement of bowel and hence relieve constipation.
Chronic Constipation, flatulence, Indigestion, Gases. Improves eyesight and a mild daily detoxifier.
Amalaki ( Emblica Officinallis), Haritaki(Terminalia Bellerica), Bhibhitaki (Terminalia Chebula)
1-2 tablets two times a day or as directed by physician.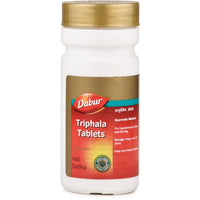 Triphala Tablets
- 40 Tablets / Tablet