Regular Use Keeps Scalp Healthy And Dandruff-free. The Oil Is Non-sticky And Moisturizes The Hair. Prevents Hair Breakage And Adds Natural Shine, Body, And Lustre. A Deep Massage Strengthens And Soothes The Scalp. The Pleasant Aroma Stimulates The Senses And Lingers In Your Mind Long After The Massage.
This oil keeps scalp healthy & dandruff-free. Prevents hair breakage & adds natural shine.
Harad, beheda, amla, neem bark, chirayata, turmeric, daru haldi, lal chandan, sesame oil.
Pour capful of oil in your hands and massage into scalp for few minutes. Leave for at least one hour before shampooing.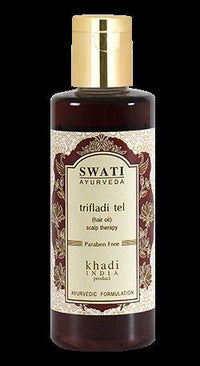 Trifaladi Hair Oil
- 210 ml / Oil