Sutendra Rayan is a unique product developed by Ayurved Rasayani. This product rejuvenates the digestive system, pacifies vitiated pitta and balances Vata dosha. It also helps in hypothyroidism, hyperthyroidism, and raised blood pressure.
Rejuvenation for digestive system, Balances Pitta and Vata, Hypothyroidism, Hyperthyroidism, Hypertension
Sootashekhar Rasa (Classical Ayurvedic formulation), Suvarna Bhasma (Classical Ayurvedic Formulaltion), Roupya Bhasma (Classical Ayurvedic Formulation), Manganese Bhasma (Classical Ayurvedic preparation)
1 capsule two times a day after food or as indicated by ayurvedic physician.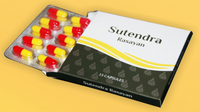 Sutendra Rasayan
- 15 Capsules / Caspsule