SUMENTA helps improve all psychological activities. It is an excellent antidepressant, anxiolytic formulation with a mild tranquilizing property, but without any side effects. SUMENTA is a herbal combination of anxiolytics, ant stress, and adaptogens. Herpestis monniera has an anxiolytic activity and reduces stress and anxiety. Valeriana wallichii and Nardostachys jatamansi possess a soothing and sedative action on the central nervous system thereby relaxing the system. Withania Somnifera acts as a mood stabilizer. All ingredients in Sumenta are proven to be effective in anxiety, depression, and other associated disorders.
Mild to moderate clinical Depression, Mild to moderate clinica; anxiety, Stress.
Bacopa Monnieri, Phyllanthus emblica, Celastrus Panniculata, Shankha Vati (Classical Ayurvedic medicine), Acorus calamus, Withania somnifera, Aegle marmalos, Nardostachys Jatamansi, Valeria wallichii.
1 Tablet 2-3 times a day or as directed by physician.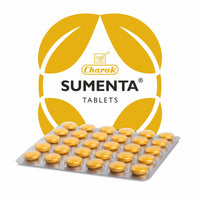 Sumenta
- 30 Tablets / Tablet