Sitopaladi Churna - An age old Ayurvedic formula used in common colds, coughs and other respiratory tract diseases. It is a natural expectorant and treats respiratory diseases effectively in a natural way.
Dry/ Productive cough, Smoker's cough, Pharyngitis, Laryngitis, Allergic cough. Natural expectorant.
Candy Sugar, Eletteria Cardomomum, Cinnamomum zeylanicum, Bambusa arundinaceae, Piper longum.
2 teapspoons with honey or ghee or as directed by physician.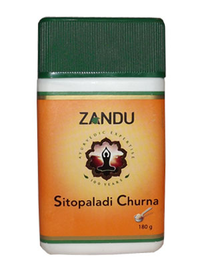 Sitopaladi Churna
- 180 grams / Powder