Dabur Shilajit Gold is a unique combination of shilajit, gold, kesar and other important herbs including ashwagandha , kaunch beej and safed musali. Shilajit Gold is good for general health and helps increase strength, stamina, vigor and vitality.
Increases Stamina and Energy, Improves physical wellness and sexual health in men
Pure Shilajit (Black asphalt), Mucuna Pruriens, Trubulus Terrestris, Withania Somnifera, Nutmeg oil, Chlorophytum Borivillianum, Dioscoria bulbifera, processed purified zinc, Cinnamon. Anacylus pyrethrum, sygygium aromaticum, Crocus sattivus, Commiphora mukul, Calcined Silver, Calcined gold.
1 capsule two times a day with warm water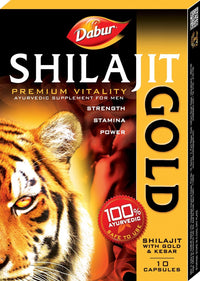 Shilajit Gold strip pack
- 10 Capsules / Capsule