Shatavarihills (Shatavari) 350mg capsule is an Ayurvedic formulation of 100mg pure powder of Shatavari roots and 250mg pure Shatavari roots extract, contains active levels of Saponins which has adaptogenic, galactagogue, rejuvenative, aphrodisiac & antioxidant properties. Shatavari also known as female health tonic, which may be helpful in all stages of womanhood.
1. The properties of Ayurvedic Shatavari Capsule are effectively used to improve female hormonal imbalance. 2. Shatavari for lactation may maintain the optimum functioning of the female reproductive system. 3. Additionally, the Shatavari for women may help to maintain healthy women health in a natural way. 4. The galactagogue properties of Shatavari for fertility may help promote lactation.
Asparagus racemoses
1 capsule twice a day after food with warm water or warm milk or as directed by physician.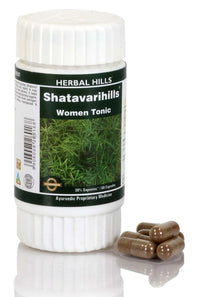 Shatavarihills
- 60 Capsules / Capsule