Semento is an Ayurvedic proprietary formulation containing 34 herbal and classical medicinal preparations which restore the reproductive physiology of the male to produce potent and healthy semen. Semento is an ideal toner to enhance vigour. It acts as a vascular toner to the reproductive glands, and improves the motility, morphology and viability of healthy sperm by restoring the function of Sertoli's cells. Active anti-oxidants will restore sperm health to normalcy. Semento also acts as a stimulant and improves sexual desire and performance.
Oligospermia, Decreased Libido, erectile dysfunction, Poor semen quality, Sub optimal sperm motility.
Tribulus Terrestris, Asparagus Racemoses, Withania Somnifera, Helianthus annus, Glycine max, Pueraria tberosa, Picrorhiza kurroa, Nigella sativa, Purified black bitumen, Trigonella foenum-graecum, Asparagus adscendens, Piper longum, Chrysopogon zizaniodes, Hyoscyamus niger, Sesamum indicum, Anacyclus pyrethrum, Cinnamomum Zeylanicum, Syzygium aromaticum, Triticum aestivum, Curcubita pepo, Asteracantha longifolia, Blepharis edulis, Strychnos nux-vomica, Myristica fragrans, Lactuca sativa, Cinnamomum macrocarpum, Abelmoschus moschatus, Prunus amygdalus.
2 Capsules 2-3 times a day for a period of 3 months or as directed by physician.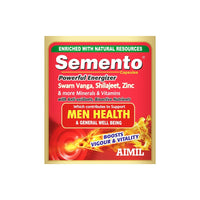 Semento
- 20 Capsules / Capsule