Sangpure tablets and liquid is the natural oral alterative and pigment regulator that govern pigmentation. They contain essential herbs that enhance the complexion of the skin. It has potent antibacterial and antifungal properties to treat the infection. It eliminates toxins and also improves immune functions. It has hepato-protective properties that purify the blood.
Blood Detox, Skin Health, Hyper-pigmentation, Complexion Enhancer, Acne, Dermatitis, Eczema, Psoriasis, Urticaria.
Hemidesmus indicus, rubia cordifolia, curcuma longa, azadiracchta indica, acacia catechu, tinospora cordifolia, aloe vera, emblia ribes, picrorrhiza kurroa, piper longum, piper nigrum, zingiber officinale, pongamia glabra, cassia augustifolia, swertia chirata
2 Tablets twice a day for a period of three months after food or as directed by physician.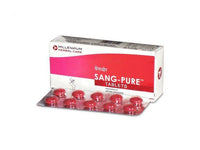 Sang-Pure
- 10 x 12 Tablets / Tablet