Ayurchem Saina nasal drops are effective in the treatment of acute as well chronic sinusitis. Prepared from natural ingredients, these nasal drops help to reduce nasal congestion, nasal discharge, rhinitis and cold symptoms very effectively.
Common Cold, Running Nose, Sinusitis, Rhinitis, Allergic nasal conditions, Influenza, Promotes sinus drainage.
Eclipta Alba, Riccinis communis, Valeriana wallichi, Pimpinella anisum, Leptadenia reticulata, Embelia ribes, Pluchea lanceolata, Glycyrrhiza glabra, Zinzibar officinalis, sesame oil, natural salt, cows milk.
Put 3 drops of warm Saina Nasal drops in each nostril 2-3 times a day.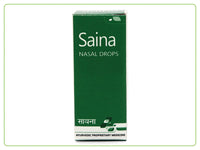 Saina nasal drops
- 10 ml / oil