Sahana, a special formulation of herbs designed to specifically support, rejuvenate and comfort the female as she passes through the delicate phases of her active fertile period. Sahana helps to maintain the female hormonal balance, stops cramps, reduce acne, support vitality and regulates menstrual activity.
Dismenorrhoea, irregular menstrual cycle, premenstrual acne, PMS (Premenstrual Syndrome)
Asparagus racemosus, hemidesmus indicus, berberries aristata, piper longum
1 capsule 2 times a day after food with a glass of warm water.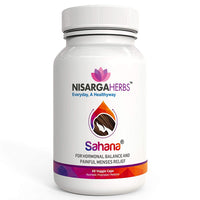 Sahana
- 60 Capsules / Vegan Capsule