Regu-G is a unique dietary supplement for type II diabetes, which is formulated using the best and safest natural herbs with no side effects. Regu-G not only offers excellent support for age related diabetes but it also helps in preventing complications involved in diabetes.
Diabetes type II, controls complications of diabetes type II, reduces the risk of vascular and neurological complications, prevents dermatological infections in diabetes type II.
Tinospora cordifolia, cinnamomum, zeylenicum, curcuma longum, trigonella foenum gracem, azadirachta indica, piper nigrum.
1 capsule 2 times a day after food.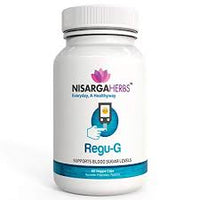 Regu G
- 60 Capsules / Vegan Capsule