Raktadoshnashak Vati is an Ayurvedic Blood purifier, manufactured by Sharangdhar Natural health care ltd. Natural ingredients like triphala, sariva, nimb, gokshur, amruta, turmeric, daruhalad & shuddha guggal get rid of these impurities and help to throw them out of the body through urine. Raktadoshnashak Vati, which contains all these elements, proves effective against any skin complaints, like blisters, rashes, pimples, abcess & even dandruff.
Pimples, ringworm, eczema and allergic dermatitis, skin and soft tissue infection, Liver stimulant.
Balsamodendron mukul, Rubia Cordifolia, Berberis aristata, Curcuma longa, Pterocarpus santalinus, Tinospora cordifolia, Tribulus terestris, Azadirachta Indica, Hemidesmus indicus, Emblica officinalis, Termilia Chebula, Terminalia Bellerica.
1-2 tabs 3 times daily with water or as desired by the physician. (for pimples and skin disease 3 tabs twice for 2-3 months).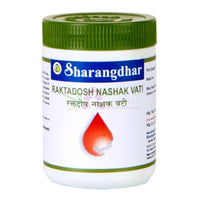 Rakta dosh nashak vati Sharangdhar
- 120 Tablets / Tablet