Purodil Gel is a unique topical innovation to fight acne and pimples quickly. It's a rich source of phyto-constituents and alpha mangostin which locally inhibit 5-? reductase and reduce DHT levels and excessive sebum or oil secretion. Over time it eventually reduces the formation and recurrence of acne and pimples. Purodil gel works at a root cause level and gives relief quickly.
Acne Vulgaris, Acne Rosacea (Dry acne), Pimples, Skin blemishes, Acne Spots, Boils, Urticaria, Skin allergies.
Garcinia indica, Syzygium aromaticum, Glycerrhiza glabra, Citrus lemon, Aloe Vera, Hemidesmus indicus, Acorus calamus, coriandrum sativum, Berberis aristata, Azadirachta indica (Oil), Mentha viridis (Distillate).
After Cleansing, use daily every morning and at night, apply small amount of gel with your ring finger, gently tap aroundacne and blemish area. For best results leave oevrnight.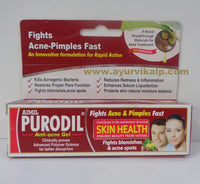 Purodil Gel
- 20 Grams / Gel