Mig-O capsules are a much-needed migraine prevention management remedy. This remedy strengthens and calms the irritated nerves that lead to migraine pain. It treats acute attacks of gastritis that also attribute to a migraine attack. Mig-O acts as a sedation free mood elevation therapy, and restores a healthy state of mind.
For persisting Migrain Pain and throbbing pain in the head.
Coriandrum sativum, Emblica officinalis, Tinospora cordifolia, Nardostachys Jatamansi, Withania Somnifera, Piper longum, Sygyzium aromaticum, Zingiber officinalis, Aloe Vera, Ferula assa-foetida,
1-2 capsules twice/ thrice a day after meal or as directed by physician.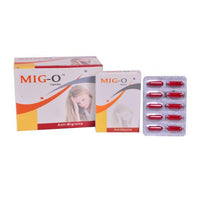 Mig-O
- 10 X 10 Capsules / Capsule