This Body Wash Really Makes Your Skin Super Velvety. Not Only Is It Super Moisturizing, But The Tangy Fragrance Of Lemon Refreshes The Tired Mind And The Uplifting Fragrance Of Bergamot Helps In The Bath To Fight Fatigue. It Is A Natural Astringent And Cleanser.
This body wash is super moisturizing. Refreshes The Tired Mind.
Lemon, Bergamot, Honey, Aloe Vera, Mulethi, Manjistha, Ratan Joth, Cleanser Base.
Apply on to a sponge or directly onto the skin, massage into a rich lather. Rinse off thoroughly. Avoid contact with eyes.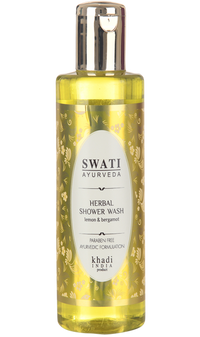 Lemon Bergamot Shower Wash
- 210 ml / Gel