Keshohills (Hair Growth Medicine) is an Ayurvedic formulation of potent Ayurvedic herbs which has antimicrobial, antiseptic, antibacterial, rejuvenating, antioxidant, antiageing & anti-inflammatory properties. A hair growth tablets combines powerful detoxifying herbs that remove excess pitta from the body while supporting the factors that lead to healthy hair growth. Keshohills helps to support hair growth, while providing the nutrients that lead to a thick, lustrous hair growth.
Excellent Hair tonic, Promotes hair growth, enhance pigmentation which delays premature greying of hair, reduces dandruff and hair fall.
Embelica Officinalis, Eclipta Alba, Aloe Vera, Centella Asiatica, Trigonella Foenum Graecum
1 Tablet two times a day after food or as directed by physician.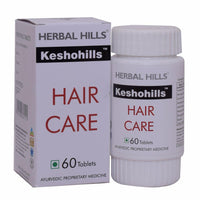 Keshohills
- 60 Tablets / Tablet