Maharishi Ayurveda Kasani Cough Syrup is an effective remedy for cough of varied etiology. Kasni counters respiratory allergies, decongests nasal, paranasal and respiratory mucosa. It is mucolytic and augments expectoration of bronchial secretions. Kasni is safe for patients of all types and ages. It does not cause drowsiness and keeps the patient alert and active throughout the day.
Dry or productive cough, cough assosiated with common cold, bronchitis or eosinophilla. Other condition where retention of tenacious and viscid mucoid secretion is a problem.
Piper longum, pistcia entegerrima, zingiber officinale, cyperus sceriosis, glycyrrhiza glabra, ocimum sanctum, abies webbiana, solenum xanthocarpum, cinnamomum zeylanicum, achyranthes aspara, myrica nagi, ephedra geradiana, athatoda vasica, tankan, sugar.
1-2 teaspoon (5-10ml) 2-3 times a day.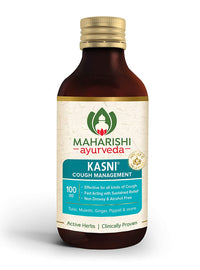 Kasani Syrup
- 200 ml / Syrup