Maharishi Ayurveda Kantha Sudha is the simplest remedy for sore throats in children and adults. The combination of herbs is of the best quality making this product effective. It also has a pleasing taste. The pocket size kanth sudha's mouth lozenges provide quick relief from a sore throat.
Sore throat, bad breath, tonsilitis, pharyngitis, laryngitis, common cold. Excellent throat soother, smoker's cough.
Glycyrrhiza glabra, mentha piperita, cinnamomum camphora, elettaria cardomomum, syzygium aromaticum, myristica fragrans, zingiber officinale, piper nigrum, piper longum, crystal sugar.
1-2 pills of kanth sudha to be kept in mouth and dissolve slowly 5-6 times a day.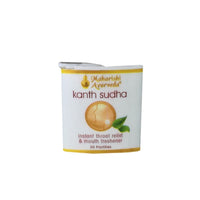 Kanth sudha
- 30 Pastilles / Pastilles