KANCHANAR GUGGULU TAB by BAIDYANATH AYURVEDA BHAWAN is an ayurvedic classical medicine. It is effective in treating PCOS, hyperthyroidism and hypothyroidism. It regulates hormonal imbalance and brings about normal functioning.
Polycystic ovarian syndrome, PCOS, Hypothyroidism, Fibroids, Hormonal imbalance, amenorrhea, anovulation, endometriosis. This classical ayurvedic preparation also strengthens Female reproductive system.
Boehinia variegata, Zingiber officinale, Piper nigrum, Piper longum, Terminalia chebula, Terminalia bellerica, Embelica officinalis, Crataeva nurvala, Cinnamomum tamala, Elletaria cardemomum, Cinnamomum zeylanicum, Commiphora mukul.
1-2 tablets twice or three times a day after food with warm water or as directed by physician.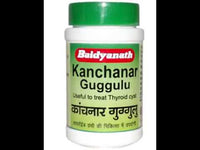 Kanchanar Guggulu
- 80 Tablets / Tablet