IMUPSORA OINTMENT is a comprehensive topical therapy for Psoriasis. It possesses keratolytic activity that helps to the soften and shed the rough outer layer of the skin in psoriasis. Immupsoa ointment has antiseptic and antipruritic properties. All the oils combined in Imupsora help in the restoration of skin texture (smoothening of cracked, painful epidermis).
Psoriasis, Scalp Psoriasis.
Shuddha Gandhak (Classical Ayurvedic Preparation), Yashad Bhasma (Classical Ayurvedic Preparation), Pongamia Pinneta, Azadirachta indica, Aloe Vera, Curcuma Longa, Rubia Cordifolia, Acasia Catechu, Glycyrrhiza Glabra.
Apply all over the affected area 2-3 times a day.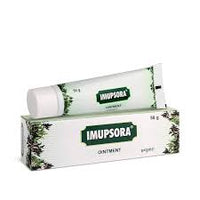 Imupsora ointment
- 50 Grams / Ointment