Immunity strengthens immune response to illness and infection. Immunity offers relief from cold, flu and other respiratory tract infections. Immunity is recommended to be taken regularly to build and maintain a strong, healthy immune system and prevent illnesses.
Low immune states, Cold, Flu Cough, Upper respiratory tract infections.
Picrorhiza Kurroa, Ocimum Sanctum, Ocimum gratissimum.
1-2 capsules, two times a day after food for a minimum period of three months. Safe for long term use.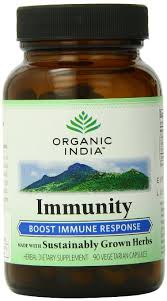 Immunity Organic India
- 60 Capsules / Capsule