This Shampoo Contains Honey, Which Helps Maintain Moisture And Makes The Hair Smooth. Almond And Other Indian Herbs Cleanse The Scalp And Nourishes The Hair Naturally While Protecting The Hair From The Sun, Washing Out, Or Damage From Heat Styling.
Helps maintain moisture & makes the hair smooth. Cleanses the scalp and nourishes the hair naturally.
Honey, Almond Oil, Tulsi, Amla, Shikakai, Neem, Vit. E, Jatamansi, Cleanser Base.
Emulsify cleanser between hands. Apply to wet scalp, lather & leave for 5-10 minutes. Rinse & repeat, if required.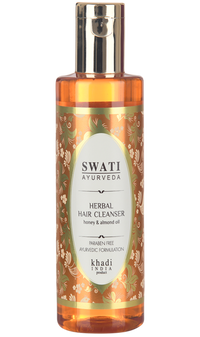 Honey Almond Hair Cleanser
- 210 ml / Shampoo