This pleasant-smelling cream is non-greasy and goes a long way in preventing breakouts. The difference in your skin keeps getting better with its use. It has an excellent combination of rare Indian herbs & mild cream base. Anti-bacterial herbal contents cure Pimples, clear marks and herbal nutrients give fair and glowing complexion.
This cream cure pimples, clear marks & herbal nutrients give fair & glowing complexion.
Ghrit kumari, yastimadhu, haridra, karpura, yashad badam, khumani, neem, cream base.
Apply on acne and pimples with clean finger tips and leave on.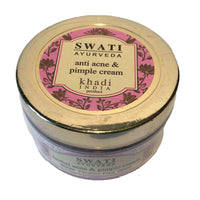 Herbal Anti Acne & Pimple Cream
- 50 Grams / Cream