Heptovit SGC contain powerful and proven herbs to repair damaged liver cells and restores liver functions. It is a proven liver-protective, liver corrective and is anti-viral. It efficiently lowers the raised levels of liver enzymes. It stimulates appetite and improves the digestive functions.
Hepeto protective, jaundice, fatty liver, liver cirrhosis, hepetitis (alcoholic, viral, drug induced), hepetobilliary dysfunction.
Berberries aristata, picrorhiza kurroa, phyllanthus niruri, emblica officinalis, terminalia chebula, terminalia belerica, eclipta alba, boerhavia diffusa, zingiber officinale, plumbago zeylanica, tinospora cordifolia, andrographis paniculata, piper longum.
2 capsules 2 times a day after food for a period of 1-2 months.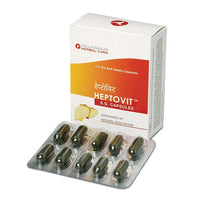 Heptovit SGC
- 10 x 3 Capsules / Capsule