HAIRVIT is prepared from a mixture of herbal extracts. It is effective in nourishing the scalp and hair. The herbs used to prepare HAIRVIT are effective in killing microbes, fungi, and bacteria. It reduces hair fall and provides nutrients for healthy hair growth.
Strengthens hair root and prevents excessive hair loss by enhancing proper blood circulation to the scalp. Prevents premature greying of hair by correcting melanogenesis, promotes healthy hair growth, effectively treat and prevents scalp afflictions like dandruff, itching and scaly scalp by virtue of its potent fungicidal and anti-bacterial action. Provides soothing and relaxing effect and helps induced sound sleep.
Bacopa monnieri, eclipta alba, lawsonia innermis, emblica officinalis, aloe vera, azadiracchta indica, hibiscus rosa, lagenaria siceraria, hedychium spicatum, pongamia pinnata, trigonella foenum graecum, cyprus rotundus, acacia concinna, pogostemon patchouli, sesame oil, coconut oil, nardostachys jatamansi.
Apply sufficient quantity of hairvit to the scalp and hair and gently massage for 5-10 minutes.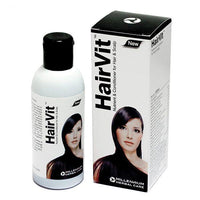 Hairvit
- 100 ml / Oil