Gokshura is very effective herb which is diuretic in nature. It is used in kidney dysfunction and dysuria. It is known to be used as "vajikaran" meaning it improves vigor. It is also known to be soothing to the genital tract and reduces vaginal dryness.
Urinary Calcules, Urinary tract infections, Benign Prostatic hyperplasia, erectile dysfunction, premature ejaculation, general weakness, chronic fatigue syndrome.
Tribulus Terrestris
1-2 tablets once or twice a day or as directed by physician.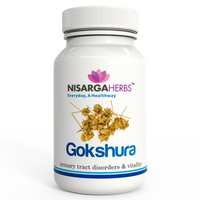 Gokshura
- 60 Tablets / Tablet