Gokshura contains alkaloids, amino acids, astragalin, beta-sitosterol, iron, resins, saponins, vitamin C, tannins, potassium which may help with electrolyte balancing, detoxification, and may also act as a liver tonic and adaptogenic and may contain analgesic properties. This healthy urinary tract supplement may also possess anti-viral, cooling and blood purifying and nervine properties and act as a digestive together with possible anti-aging properties. It may be stimulant, digestive and astringent
Kidney and prostate health, support healthy urinary tract function, may help to cleanse the urinary system. Gokshura has aphrodisiac properties and may help in improving mens health and overall stamina.
Tribulus terrestris powder 100%
Take 3gm powder, 1-2 times a day with warm water.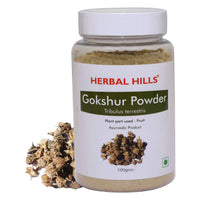 Gokshur Powder
- 100 Grams / Powder