Garcini tablet is a proprietary medicine from SG phytopharma. It inhibits synthesis of fat, triglycerides, and cholesterol; it suppresses hunger; it is used in obesity; improves metabolism.
Used as appetite suppressant.Effective in treatment of obesity.Inhibits synthesis of fat, cholesterol and triglycerides.
Garcinia Indica, Commiphora Mukul, Emblica Officinalis, Terminalia Chebula, Terminalia Bellerica.
1 Tablet to be taken twice daily before meals with lukewarm water. For best results use for 2 – 3 months.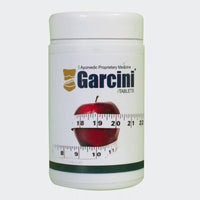 Garcini
- 60 Tablets / Tablet