Femohills is an unique combination of Ayurvedic herbs developed by Herbal Hills, which possess anti inflammatory, analgesic & rejuvenatory properties. The selection of herbs in Femohills is based upon a long-standing use as a traditional solution. It showcases the nourishing effects on the female reproductive system and it also helps to maintain the health and well-being throughout all stages of a woman's life. All herbs are well processed with clarified butter to provide maximum absorption. Femohills (women's health capsules) are specially designed to help promote the healthy reproductive system. Additionally, it may maintain the health throughout all stages of woman's life. All the supplements for women are mixed with medicated cow ghee, which acts as bio-enhancer.
1. Femohills capsule may help to regulate the menstrual cycle and maintains menstrual flow 2. May help to nourish & strengthen the female reproductive system. 3. The analgesic & anti-inflammatory properties of Femohills capsules may reduce inflammation of the uterus & helps in controlling symptoms like leucorrhoea & menorrhagia. 4. All the herbs in Femohills provide healthy hormonal balance.
Asparagus racemoses, Saraca indica, Aloe Vera, Messua Ferrea, Symplocos racemosus, Glycyrrhiza glabra, Dashmoola (Classical Ayurvedic combination), Phaseolus Trilobus, Teramnus labialis, Cow's milk, Cow's ghee.
Take 2 soft gel capsules in the morning or as recommended by the physician.It should ideally be taken on empty stomach before meals. For better results it should be taken with with water or milk.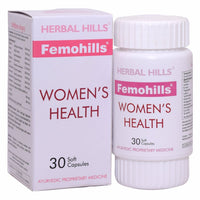 Femohills
- 30 Capsules / Capsule