The female genital tract is susceptible to microbial and fungal infections. Malnutrition and poor hygiene can also increase the susceptibility to vaginal infection and inflammation (vaginitis). FEMIPLEX gel is used for the treatment of recurrent vaginitis. FEMIPLEX contains the potent astringents Saraca indica and Symplocos racemosa, which arrest excessive vaginal discharge. The ingredients also include Tribulus terrestris, Lawsonia alba,Berberis aristata, Tinospora cordifolia which all possess anti-microbial, anti-inflammatory and immunity enhancing actions. FEMIPLEX effectively treats vaginitis and minimizes recurrence.
Recurrent Vaginitis, Prevention of post operative vaginal infection, Leucorrhoea, Cervicitis.
Symplocos Racemoses, Berberis Arristata, Pancahvalkal (Classical Ayurvedic Preaparation), Tribulus terrestris, Azadirachta indica, Aloe Vera
Apply sufficient quantity of gel once or twice daily; intravaginally with the calibrated applicator for 1-2 weeks, or till the symptoms subside. After every application wash it in warm soapy water and dry it completely.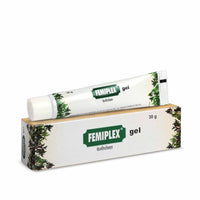 Femiplex gel
- 30 Grams / Gel