Energol MA Tablets consist of 31 precious and time tested herbs and Bhasmas. Whilst each Bhasma is a complete energizer by itself all 31 act synergistically to produce the desired action. Energol Ma Tablets help in restoring the psychological and functional homeostasis in the body thereby acting as an invigorating body and mind rejuvenator. It prepares the person to face the forces and situations of life and consequently helps in restoring vigour, vitality and a strong psyche.
Erectile dysfunction, low libido, rejuvenator for men, restores vigour and vitality.
Smilax china, salmalia malabaricum, cuminum cyminum, myristica fragrans, syzygium aromaticum, argyreia speciosa, zingiber officinale, piper nigrum, piper longum, bambusa arundinacea, asparagus racemosus, vitis vinifera, elettaria cardomomum, mucuna prurita, saussurea lappa, cyperus scariosus, puraria tuberose, benincasa hyspida, mesua ferrea, nardostachys, cinnamomum camphora, tribulus terresteris, loha bhasma, abhrak bhasma, swarna sidha makardwaj, vanga bhasma, sida cordifolia, pistacia integerrima, piper cubeba, crystal sugar.
2 tablets 2 times a day after food with milk or water.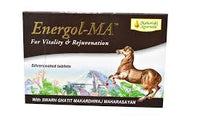 Energol MA
- 10 X 10 Tablets / Tablet