Herbalhills Detoxhills is a blend of high quality herbs synergistically selected and blended together to form easy to swallow tablets. This herbal colon cleanse may cleanse and detoxifies the liver, colon and the whole body. Herbalhills products are made in India under strict GMP guidelines. This means you're choosing a pure, high-quality, natural supplement that you can trust with your health.
Detox Support, Natural colon cleanse, Useful to treat Chronic constipation & indigestion.
Casia fistula, Terminalia Chebula, Ipomea turpethum, Trikatu Ghana (Classical Ayurvedic composition), Triphala powder(Embelica Officinalis, Terminalia Chebula, Terminalia Belerrica)
1-2 tablets at bedtime or as directed by physician.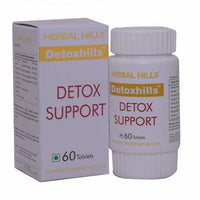 Detoxhills
- 60 Tablets / Tablet