Barley grass powder is a rich source of nutrients, which may include multi-vitamins like vitamin A, B, C, E, and K. Additionally, this barley powder is a source of essential minerals like zinc, iron, and calcium. This Barley grass tablets also contain electrolytes such as Magnesium, Potassium, and Phosphorous etc. Additionally, this organic barley grass exerts a strong antioxidant, antibacterial, detoxifying, alkalizing etc. properties to help support healthy living.
Obesity, Natural detoxifier, Help in improving body's self healing properties. Rich in proteins, amino acids, vitamins and minerals
Hordeum Vulgare
1 Tablet two times a day after food with warm water or as directed by physician.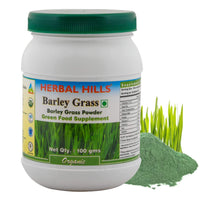 Barley Grass
- 100 Grams / Powder