Himalaya AyurSlim capsules is an ayurvedic formulation that helps reduce weight naturally. It contains a natural herbal composition of Garcinia, Indian Bdellium, Gymnema, Chebulic Myrobalan, and Fenugreek seeds. Garcinia is known to slow down the body's ability to store fat, potentially enabling more fat from foods to pass through the body without being stored. Indian Bdellium is known to reduce cholesterol and triglyceride levels. It also strengthens immunity and regulates the body's lipid level. Gymnema stimulates the pancreas to increase insulin production and neutralizes any excess sugar present in the body. Chebulic Myrobalan detoxifies the body and improves the bowel movements. Fenugreek seeds function as an appetite suppressant and give a feeling of satiety. AyurSilm is not limited to reduce your excess weight, but it also works on the overall improvement of digestion, boosts immunity, and flushes out toxins from your body.
Reducing weight, Maintaining normal lipid levels, Inhibiting craving for sugar
Terminalia Chebula, Garcinia Cambogia, Commiphora Wightii, Gymnema sylvestre, Trigonella Foenum Graecum.
2 capsules twice a day after breakfast and dinner, for a minimum period of 3 to 6 months. AyurSlim should be taken in conjunction with a reduced calorie diet and half an hour of exercise on a daily basis.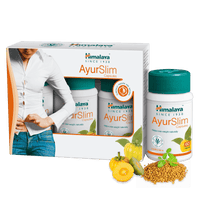 Ayurslim
- 3 X 60 Capsules / Capsule