Ashwagandha is a natural treatment for low energy, general exhaustion and a tendency towards infections, colds and flu. A powerful anti-stress agent, Ashwagandha helps relieve mental, physical and emotional stress It restores and builds energy and helps prevent colds.
ORGANIC INDIA Ashwagandha Capsules helps in anxiety, stress and related illness, Low Energy, Immune Deficiency, General Exhaustion, Chronic Fatigue Syndrome, Bronchitis, Premature Ageing , Depression, Insomnia and various other health problems.
Withania Somnifera.
1-2 capsules. twice a day after food for a minimum period of three months. Can be taken at bed-time to help induce sleep. Safe for long term use.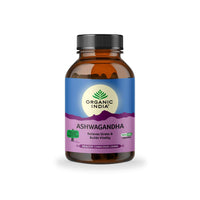 Ashwagandha, Organic India
- 60 Capsules / Capsule