Arjuna powder is made from the bark of Terminalia Arjuna tree. It is rich in magnesium, zinc, calcium, copper and has anti-oxidant, astringent & lipid level lowering properties. It is also heart strengthening.
Arjuna powder may improve capillary circulation and strengthen the heart muscle. It may exert heart cell protecting, anti-oxidant and lipid level lowering properties for healthy living. This powder may be used for heart functioning and to improve blood circulation. It may also support healthy blood pressure.
Terminalia Arjuna powder 100%
Take 3gm powder, 1-2 times a day with warm water.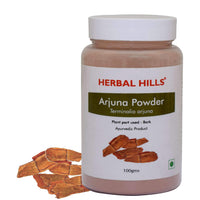 Arjuna Powder
- 100 Grams / Powder