Amycordial is a scientifically formulated and unique combination of herbs which maintain and provide a natural way to restore female physiology. Amycordial not only ensures safety and efficacy, it also assures health in females through cleansing, nourishing and strengthening the body. Amycordial serves a dual purpose of therapeutic management and nutritional supplementation.
Irregular mensturation, dysmenorrhoea, Unexplained infertility, Non- specific Leucorrhoea, PCOS- Polycystic Ovarian sysndrome, Pre and Post menopausal syndrome.
Ricinus communis, Lepidium sativus, Asparagus racemosus, Amaranthus spinosus, Rubia cordifolia, Phyllanthus emblica, Mesua ferrea, Zingiber officinale, Withania somnifera, Rheum emodi, Curcuma Longa, Tinospora cordifolia, Trigonella foenum-graecum, Adhatoda vasica, Aloe Vera, Tribulus Terrrestis, Piper cubeba, purified black bitumen, putranjiva roxburghii, Quercusinfectoria, Leptadenia reticulata, Callicarpa macrophylla, Scindapsus officinalis, Citrus reticulata, commiphora myrrh, Shorea robusta, Tagetes erecta, Desmodium gangeticum, Uraria picta, Solenum indicum, Ficus Benghalensis, Valeria jatamansi
2 tablets 2times a day after food for a period of 1-3 months. In case of PCOS 2 tablets 3 times a day after food for 3 months along with Amree plus 2 capsules 3 times a day after food for 3 months.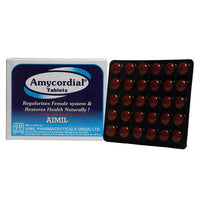 Amycordial
- 30 x 10 Tablets / Tablet