Amroid ointment is an Ayurvedic medicine manufactured by Aimil Pharmaceuticals India Pvt ltd which eases discomfort of piles/ haemorrhoids naturally.
Bleeding Piles, Non Bleeding Piles, Inflamed piles, Painful defecation because of piles.
Cassia fistula, Callicarpa macrophylla, Butea monosperma, Pongamia pinnata, Azadirachta indica, Terminalia Chebula, Symplocos racemosa, Mesua Ferrea, Curcuma longa, Berberis aristata, Cynodon dactylon, Terminalia bellerica, Operculina turpenthum, Withania somnifera.
To be applied over the pile mass before and after the defecation.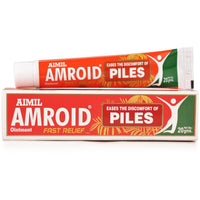 Amroid ointment
- 30 Grams / Ointment