The Vetiver plant is a grass native to India and is cultivated in West Africa, Brazil, Argentina. The name Vetiver is derived from the Tamil word ' Vetiver'. Vetiver is known to be in use in India both for its fragrant oil and as traditional medicine since ancient times. Vetiver's essential oil also known as the choice is extracted from the aromatic roots of Vetiveria Zizanioides. The Vetiver plant's roots are aged before being soaked in water and then distilled. The concentrated oil which is released then skimmed off the top of the water. Vetiver essential oil is likewise known as the 'Oil of Tranquillity' and 'The fragrance of the Soil' as its aroma is sensuous and calms. Vetiver oil is widely used for nervousness, insomnia, arthritis, insect bites, and burns. It is dangerous to use Vetiver if one is pregnant and breastfeeding an infant. It regenerates cells and balances hormones during menopause.
• It regenerates cells and balances hormones during menopause. • It can help to protect clothes from moths and bugs. • Good for strengthening tired, loose and undernourished skin.
Not applicable
Massage: Vetiver essential oil can be used for massages. Mix 2-3 drops of the essential oil into hair oil or carrier oil and blend it well. Baths: Add 4-5 drops of Vetiver essential oil to your bathtub or 3-4 drops to a bucket and swish the water gently to mix the oil well. If you have dry skin, add a tablespoon of vegetable oil along with the essential oil. Diffuser: Use 4-5 drops of Vetiver essential oil in a diffuser bowl filled with three-quarters of water. Essential oils should never be burnt directly as the chemical structure can get changed with an incinerator. Method: To secure clothes from moths and insects, sprinkle oil on cotton wool balls and place in the wardrobe. Mix a few drops of oil in coolers during summer. Vetiver essential oil has rejuvenating properties to regenerate skin cells and brighten undernourished skin. For facial massages, add 2 drops of Vetiver essential oil with vegetable oil and massage gently. After massaging with this oil, place a hot towel over your face for oil to seep in better and relax further.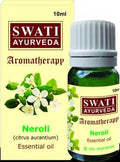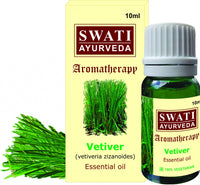 Vetiver Oil
- 10 ml in a Glass Bottle / Oil