Tribhuvan Kirti Rasa - An age old ayurvedic formulation for different types of fevers, influenza and bronchitis. Also improves digestion and digests toxins (Ama)
Fever, Influenza, Pharyngitis, Laryngitis, bronchitis. Also improves digestive power.
Shuddha Hingul, Shuddha Vatsanabh, Zingiber Officinalis, Pioer Nigrum, Piper longum, Borax, Oscimum Sanctum, Datura metel, Vitex Negundo
2 tablets twice a day after food with honey or warm water or as directed by physician.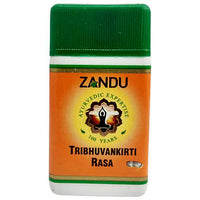 Tribhuvan Kirti Rasa
- 40 Tablets / Tablet