Shilajithills (Shilajit) 375mg capsule is an Ayurvedic formulation of pure Shilajit exudate (Asphaltum) extract, contains active levels of Fulvic acid which has antioxidant, adaptogenic, anabolic, anti-ageing, revitalising, energy boosting properties. Shilajit capsule also known as men's health capsule.
1. The multi properties of Ayurvedic Shilajit Capsule may help to the maintain optimum energy levels and may improve stamina, vitality and vigor. 2. Adding to the shilajit benefits, it may help to improve muscular strength. 3. Anabolic properties of Shilajit capsule for sex may support the natural development and health of cells and muscles. 4. The adaptogenic properties of shilajit capsule for men may help to reduce anxiety and stress levels and also contribute to men's health maintenance.
Purified Asphaltum
Take one capsule twice daily or as directed by the physician.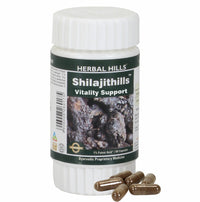 Shilajithills
- 60 Capsules / Capsule