Dabur's Rheumatil Oil is one of the top ayurvedic medicines for joint pain made with herbal extracts from effective medicinal plants. This remedy is recommended by Indian ayurvedic treatment and provides relief from joint and musculoskeletal pain. It has anti-inflammatory, rapid action and counter irritant properties which reduce joint pain, swelling and stiffness. It is a quickly absorbed oil.
Osteoarthritis, Muscle sprain, Lumbago, Backache, Slip disc pain, Sciatica, Bursitits, Frozen shoulder, Frozen shoulder.
Mahanarayan Oil (Ayurvedic Oil Formulation), Vishagarbha oil (Ayurvedic Oil formulation), Syzygium Aromaticum, Commiphora wigitii, Zingiber officinale, Eucalytus oil, Metha viridis.
Apply 2-3 times on affected area and gently massage.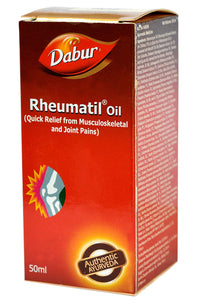 Rheumatil oil
- 50 ml / Oil